Cooperativa San Cristobal Website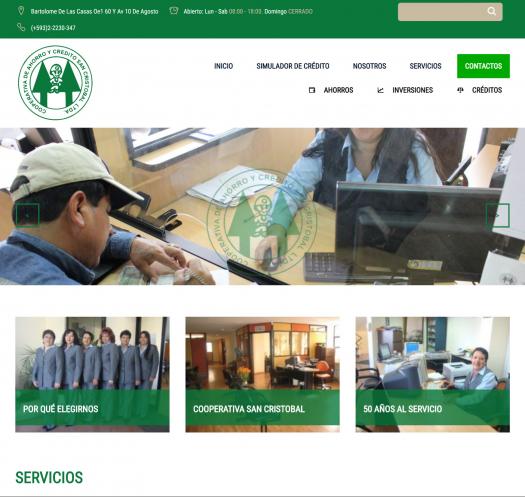 Company/Project
Cooperativa San Cristobal
Background
The "Cooperativa de Ahorro y Crédito San Cristóbal", is a financial entity, regulated by the Superintendence of Popular and Solidarity Economy SEPS, which belongs to segment 3, domiciled in the province of Pichincha, in the city of Quito which is its The area of ​​influence was founded in 1966 and obtains legal status under ministerial agreement No. 3877, according to registration with No. 1343. It is a financial entity that currently provides a set of credit and financial products and services to its members that in its The majority are employees, employees and workers of Empresa Electrica Quito EEQ.
The Authorities of the Cooperative, consider the need to have presence on the Internet through a Website, which is a form of communication, being more feasible and economic, allowing access worldwide which leads to it being within reach of all, that's why you should take advantage of this resource and position yourself in the virtual world.
Proposed solution
An evaluation of the needs of the cooperative was made and the development and implementation of the website on top of Drupal Content Management System was proposed.
An initial phase included some meetings to discuss more about more specific needs and website audience and to provide some options for the implementation.